"Mentoring is a system of semi-structured guidance whereby one person shares their knowledge, skills, and experience to assist others to progress in their own {professional} lives and careers. Mentors need to be readily accessible and prepared to offer help as the need arises – within agreed bounds. Mentors very often have their own mentors, and in turn, their mentees might wish to 'put something back' and become mentors themselves – it's a chain for 'passing on' good practice so that the benefits can be widely spread. Mentoring can be a short-term arrangement until the original reason for the partnership is fulfilled (or ceases), or it can last many years.

Mentoring is more than 'giving advice', or passing on what your experience was in a particular area or situation. It's about motivating and empowering the other person to identify their own issues and goals, and helping them to find ways of resolving or reaching them – not by doing it for them, or expecting them to 'do it the way I did it', but by understanding and respecting different ways of working."
–University of Cambridge
OFEC One to One Mentoring Program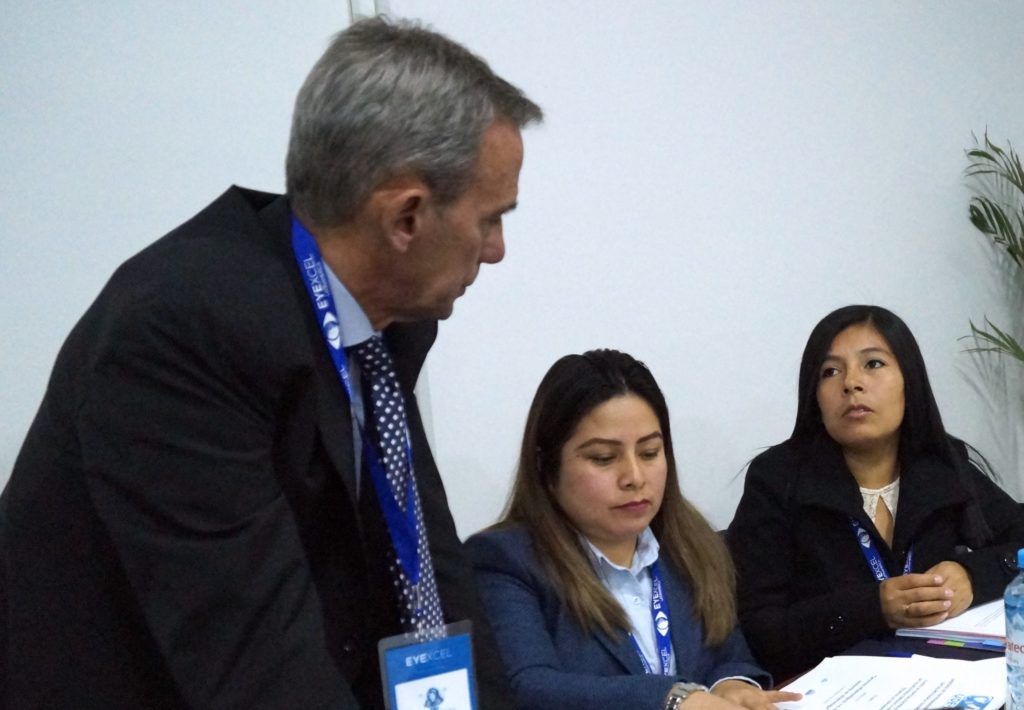 OFEC One to One Mentoring Program
The primary goal of the Ophthalmology Foundation Education Consortium (OFEC) One to One Mentoring Program is to connect ophthalmologists with each other for mentoring in a variety of topics. Mentors will aim to help mentees avoid having to learn from their own mistakes, sharing their experience to accelerate the career of their mentees. Mentors aid mentees in developing skills in their areas of interest regarding eye care, education, research, and organizational leadership. The OFEC One to One Mentoring Program will encourage participants to build a team relationship from which both can benefit.
Working with a mentor can be an invaluable experience for both parties. The mentor and mentee will likely learn new things about themselves and each other that will serve to move them towards their career goals. To make a successful mentor–mentee relationship, each party needs to understand the role they play in the mentoring team. For both mentors and mentees this process is a two-way street, and you get out of it what you put in.
Information for Societies
Who coordinates this program
The OFEC One to One Mentoring Program is a collaborative program of the Ophthalmology Foundation and ophthalmology supranational societies. At this time, the Pan-American Association Ophthalmology (PAAO) and Middle East African Council of Ophthalmology are our first supranational partners for this program.
This program is coordinated by a committee composed of members of Ophthalmology Foundation's Education Consortium and PAAO. We invite all ophthalmology societies that are interested in participating in this program to contact us with any questions and comments.
What is the role of the societies involved?
Societies collaborate with ideas and suggestions to improve the program, inspire and drive their members to volunteer to be mentors, and create awareness of the program among their members.
These consist of but are not limited to:
Nominating a society member to the Mentorship Committee.

Sharing on their society website a description of the program with a link to the Mentorship Area on the Ophthalmology Foundation's website

.

Use their communication channels with members to make them aware of the programs and update them with news from the program throughout the year.
Information for Mentors

What is expected from mentors?
Mentor information will be posted on the OFEC One to One Mentoring software platform. Mentees will be able to review your information, and decide whether to request an introductory meeting. Mentors will be free to decide which and how many mentees they will accept. Once committed to help a mentee, a mentor will follow up with them to help them reach their goals. A mentor may offer training if they so choose.
Mentorships are most effective when they continue over a period of time. While it is not required, we suggest that once committed, a mentor/mentee relationship continue over several meetings.

Mentors will be asked to complete a survey after each mentee relationship has come to a conclusion, or every 6 months. Mentors will also be asked to report to the Mentorship Coordinating Committee on the progress of their mentees.
How can I become a mentor?
To become a mentor, register with the Mentorship Coordinating Committee by filling out this form and submitting your CV. The Mentorship Coordinating Committee will review your application and notify you of the next steps when their review is complete.
If you have already joined the program as a mentor, you can login to the Ophthalmology Foundation Mentoring platform using the button below.
Information for Mentees

What is Expected from mentees?
As a mentee, you have the opportunity to learn from the experiences of your mentor as well as to ask for feedback, but like any relationship, you get what you put in. Mentees will be responsible for:

Identifying their initial learning goals and measures of success for the mentoring relationship.
Being open to and seeking feedback from their mentors.
Taking an active role in their own learning. Mentees will be expected to help drive the process of their mentor/mentee relationship.
Working with their mentor to schedule and attend mentor meetings.
Following through on commitments.
Taking informed risks as they try new options and behaviors in support of their career and development goals.
How will i know what a mentor can do for me?
Both mentors and mentees accepted into the program will be given access to an online mentoring software. Mentees will be able to view mentor profiles and request sessions from mentors of their choice from the OFEC Mentoring software.
Who is eligible to join the OFEC One to One Ophthalmologist mentoring program as a mentee?
This will depend largely on the number of candidates and mentors. Priority will be given to young ophthalmologists who have passed through leadership programs.
How can i become a mentee?
Mentee applications are now open. Please fill out an application and a representative from the Ophthalmology Foundation will be in touch.
If you have already joined the program as a mentee, you can login to the Ophthalmology Foundation Mentoring platform using the button below.
We thank BVI Medical for their generous support of this program.
Group Mentoring Program in Continuing Professional Development (CPD)
The Ophthalmology Foundation Education Consortium (OFEC) Group Mentoring Program's primary goal is to connect individuals and professional organizations interested in creating, enhancing and implementing CPD projects with experienced mentors who have demonstrated success in leading CPD initiatives.
Mentors and mentees will co-work online and/or face to face on any of the following components of a CPD project:
Leading CPD–project design and management
Bridging identified gaps–resources to translate the project into practice
Implementation and following up–quality improvement
Information for Group Mentors

What is expected from mentors?
Mentors for this program will be responsible for:
Guiding mentees through the process of their CPD project design.
Following up with their mentees.
Suggesting helpful educational resources.
Facilitating networking opportunities with partners and international peers.
Promoting a supportive collective learning environment.
Developing mentees' sense of ownership for their CPD project.
Encouraging mentees' formation of a Community of Practice (CoP).
Supporting formed CoPs, as anchors for CPD advancement.
Information for Mentee Organizations

What is expected from mentees?
Group mentoring will be developed based on the mentee organization's needs assessment.
Once connected with their mentor(s), mentees will be expected to:
Propose a CPD project on continuing education or professional development for their organization.
Demonstrate autonomy and accountability for the organization they serve.
Create a project management plan.
Seek and engage with peers and partners as deemed needed for their project.
Implement their CPD project.
Improve their CPD project.
Please apply for your organization to become a mentee by filling out a needs assessment:
Sign Up for the Ophthalmology Foundation Newsletter