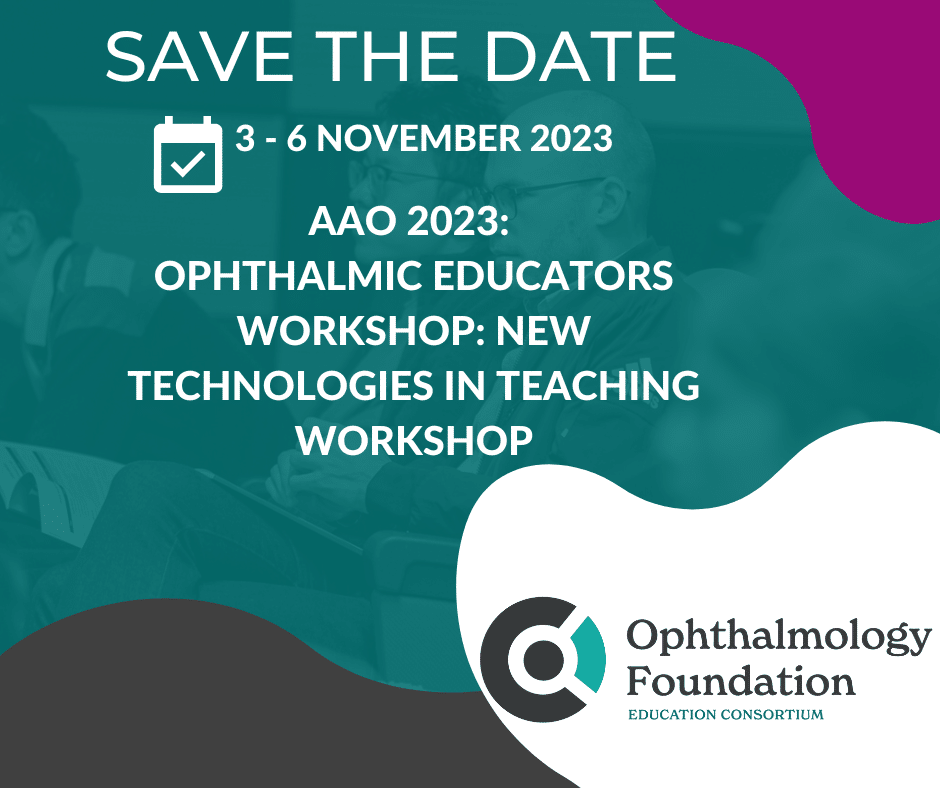 AAO 2023:
Ophthalmic Educators Workshop
"New Technologies in Teaching"
Friday, 3 November 2023, 1:30–4:30 p.m.
Room South 206
Workshops provide valuable hands-on learning opportunities. If you're attending AAO 2023 this November, join us on 3 November, 1:30-4:30 PM, US Pacific Time, Room South 206, for our Ophthalmic Educators Workshop: New Technologies in Teaching, co-sponsored by the Ophthalmology Foundation and the American Academy of Ophthalmology. This workshop is eligible for CME credits.
Artificial Intelligence (AI) and Simulation-Based Education (SBE) are hot topics in medical education. As an educator, you will learn how to understand and effectively utilize them in professional instruction. This interactive workshop provides medical educators with an overview of the potential applications, benefits, and challenges of incorporating AI in medical education and generates a conversation exchange about SBE experiences, hurdles, and potential solutions to overcome them.
Support for the OF's participation is provided in part by Carl Zeiss Meditec USA, Inc.
In addition, visit the Ophthalmology Foundation and the International Ophthalmological Fellowship Foundation (IOFF) Saturday, Sunday, or Monday at booth #7633, across from the AAO in the West exhibition hall.
Workshop Chairs:
Dr. Eduardo P. Mayorga
Dr. Helena Prior Filipe
Dr. Gabriela Palis
Dr. Karl Golnik
Presenters:
Dr. John L. Clements
Dr. Van C. Lansingh
Dr. Giselle C. Ricur
Dr. Berthold Seitz
Dr. Danny Siu-Chun Ng
Dr. Jorge E. Valdez-Garcia
Workshop Schedule:
| | | |
| --- | --- | --- |
| 1:30 | | Introducing the OF Education Consortium and the New Technologies in Teaching Workshop |
| | | Artificial Intelligence Workshop |
| 1:35 | | Artificial Intelligence: The Current Technology and Known Applications |
| 1:55 | | Improving How You Plan and Create Content for Teaching in a World With AI |
| 2:10 | | Artificial Intelligence and Its Role in Clinical Teaching and Learning |
| 2:25 | | Live Demonstration of Several Applications Discussed |
| 2:40 | | Q&A and Topic Discussions |
| 2:55 | | BREAK |
| | | Simulation Based Education Symposium |
| 3:05 | | The Importance of Simulation Based Education |
| 3:10 | | Augmentation of Practical Residency and Fellowship Training Using Diagnostic and Microsurgical Simulators |
| 3:20 | | Training by Simulation Without Virtual Reality Simulators |
| 3:30 | | The Impact of Mentoring and Debriefing on Perceived Learning Barriers by Residents in Ophthalmic Microsurgical Simulation Training |
| 3:40 | | Small and Large Group Discussions |
| 3:55 | | Real Life Implementation of Simulation Based Education |
| 4:05 | | Simulation Based Education: An Exciting Field of Scholarship in Eye Health Professions Education |
| 4:15 | | Small and Large Group Discussions |